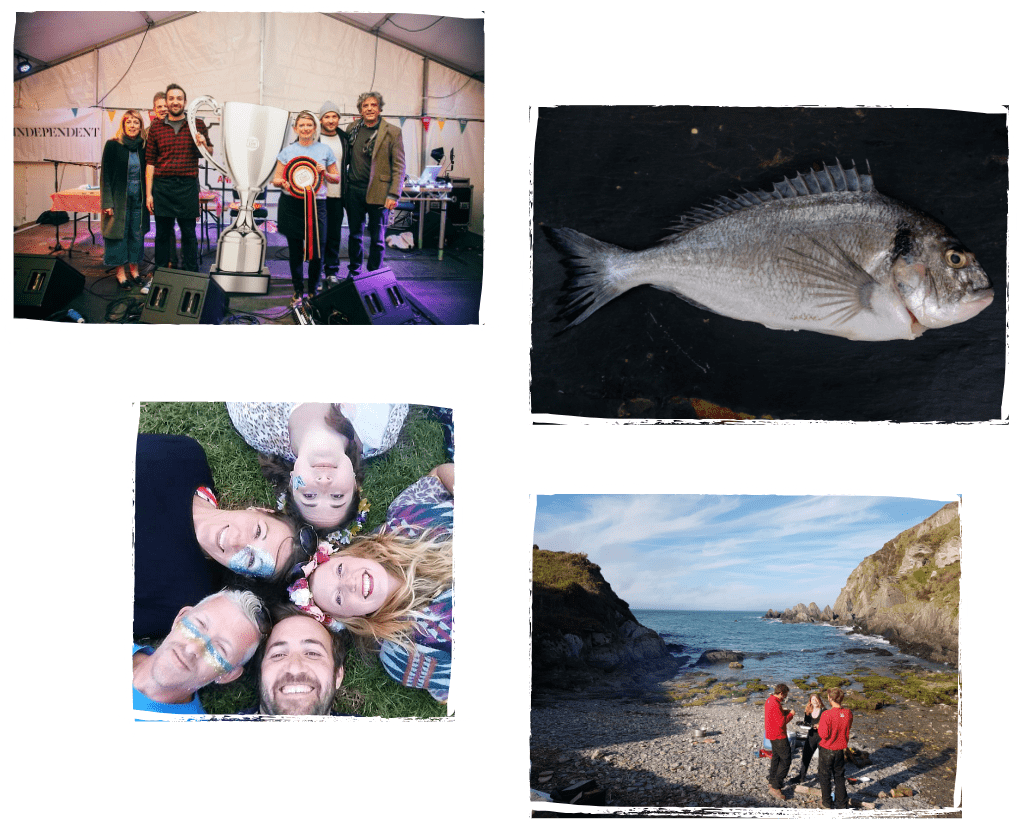 About Seadog
Seadog first set sail back in 2013 with North Devon chefs, and brother and sister-in-law team, Jim Coslett and Beth Newsome at the helm -  We've both always had a passion for travel and have each spent long periods overseas, soaking up the vibrant array of sights, sounds and, naturally, the diverse flavours of the world. Inspired by our own experiences of the lively, exciting Street Food markets of Asia, the Middle East, North Africa and Latin America, and by the popularity of the fish and seafood-based dishes we came across there, we launched the good ship Seadog on to the flourishing UK Street Food scene
We've diversified over the years and since catered for a wide range of weddings, private parties and events, as well as hosting unique pop-ups and outdoor collaborations. Fish and seafood will always be a focus for Seadog but it's certainly not all we do. We're just as enthusiastic about the South West's meat and its seasonal produce and class our trusted suppliers as friends, all of whom share our passion for quality sustainable ingredients and low environmental impact. We're just as happy cooking vegetarian or vegan menus if that's what you're after and we will always cater creatively for those with dietary requirements and allergies. 
We are committed to reducing plastic waste and play an active part in the Plastic Free North Devon campaign, ensuring our event packaging and cutlery is 100% compostable. As part of our continued commitment to sustainable seafood, we are also part of  The National Lobster Hatchery's fantastic Buy One, Set One Free initiative, that helps to ensure there will be healthy stocks of Lobsters in our oceans for generations to come.
About our suppliers
Seadog catered our wedding in December, providing an innovative menu and fantastic service. They were super helpful, fun to work with and delivered amazing food. Would heartily recommend.
Huw Baines
Wedding catering for 100
Thanks Seadog Team for the fantastic food at our party earlier this month - you guys were relaxed, onto it and super good. The food was a massive hit with everyone - 5 stars all round. Thank You!
Jeni Mundy
50th birthday party for 120
Brilliant caterers - tasty original food for our wedding that everyone loved. Oysters, cuttlefish masala, Thai fish ball curry, fresh spring rolls, chocolate brownies.... Yum!
John Harvey
Wedding catering for 100
From start to finish you have been so lovely, fun and professional to work with from afar in Malawi and then here in Devon. We consider ourselves very very lucky to have found you and couldn't recommend you highly enough to others. Thank you.
Jen & Kikkan
Wedding catering for 80
Did our wedding catering in very difficult conditions (in a marquee during a storm). Very professional and the food is outstanding.
Sam Finlay-Notman
Wedding catering for 90
Absolutely my favourite food. Different, original, healthy, unique and super tasty locally made food...can't beat it in my opinion.
Maddy Palmer
Attended a Seadog Pop Up