Perfect Places… Our Favourite North Devon Wedding Venues
21 November 2018
The quest for the ultimate North Devon wedding location
Whether you're after barefoot on-the-beach, an elegant manor house gathering , a charming  traditional village hall , or an uber-stylish Glampsite,  North Devon is full of unique and stunning settings for your perfect wedding.
We're pretty happy with the multitude of options on offer in our home region and with this in mind we've drawn together a few of our favourite alternative North Devon Wedding venues, all of which are well worth checking out in the pursuit of the ultimate place to celebrate your day. 
One for the sunset lovers, this jaw-dropping location is hard to beat. With an open stretch of sand and the best surfing waves in the country as your backdrop, it's the perfect location for your beach-chic ceremony.
With a marquee wedding here, you can really go to town with your styling. Vintage, Boho or festival themes work especially well.  Event planners extraordinaire Blue Fizz can assist with two separate beach view locations in the village as well as marquee hire and styling.  Another stylish and contemporary option comes courtesy of the incredible geodomes provided by Baya Hire, who also supply rustic and reclaimed furniture to complete the beachside look.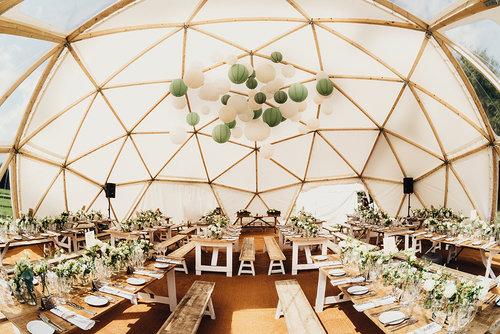 There are limitless accommodation possibilities for you and your guests in Croyde and its pretty surrounding villages.
We love Heatherdown House and Chalet, a mere six minute stroll from the sand with spacious accommodation, a separate tucked away cottage perfect for two, and plenty of space to store the boards. Because who doesn't want to surf on their wedding day?
This magical venue surrounded by 25 acres of woodland and wildflower meadows has the wow factor, and then some.  Although located just outside Braunton, the venue feels wonderfully secluded.  With no curfew and no neighbours for a mile this is the option if you want to party with your guests late into the night!  
Fully licensed for weddings and civil ceremonies, you can choose from a variety of ceremony settings, including a fairly-light lit courtyard, an old chapel, a Barn or under a beautiful ancient Oak. 
Bespoke is the name of the game here with no 'package' in site. Whether you're after a small intimate affair or a full-on three dayer, this stunning Manor House and its self-contained extensive accommodation, is well worth considering. (Did we mention the indoor pool?) 
Mid-week deals can prove really cost effective here, giving you the chance to be the Lord or Lady of the manor without breaking the bank!
The Quintessential Village Hall
We really love Lee Village Hall. So much, in fact, that both of our founders had their respective weddings here! Ideally suited to DIY weddings, it's also where we've hosted several of our Seadog Pop-Up events over the last few years.   
Nestled in a timeless sylvan valley, you can choose to celebrate inside the 1920's hall or in a marquee in the adjoining grounds known as Pixie meadow.  The venue, and the village itself, feels remote and secluded despite being close to more popular and well known towns and villages along the coast; the perfect venue for those seeking a wedding weekend away from the crowds. 
Wander down to the rocky beach which provides a perfect backdrop for pictures and spend the night before the big day supping a pint or two in the cosy surrounds of the Grampus Inn listening to an eclectic range of live music.   
There are some great accommodation options in Lee, including an uber luxurious treehouse at Ravendere Retreats and brilliant back-to basics camping at the beautiful Yomer Wood.
While we can't quite class this as a North Devon wedding venue; (it's more mid), we are always super stoked to cater a wedding here and, well, everything about this incredibly stylish, yet utterly magical venue, means it still sits comfortably in our list of the top places to celebrate in style.
The views are amazing, with rolling hills, wooded valleys and apple orchards as a backdrop to the beautifully restored 17th Century Threshing Barn.  Musicians and Hayne, Devon hosts, Tim and Milla, have lovingly restored a range of derelict farm buildings, as well as the barn, into a beautiful, unique events space full of character and style.  Flowers grown on site and at Milla's friends local garden can be supplied to complete the classic English garden style. 
It's so beautiful, inside and out, that you and your guests will definitely want to stay. Handily there are lots of options to do just that, including a luxury barn conversion, shepherd's huts and bell tents all beautifully decorated and brimming with designer touches.  And if you've got lots of guests, you can even create your own pop-up Bell Tent village... Upmarket wed-fest, sorted!
 Fancy something even more different? Love the idea of a venue where location and food provenance have equal importance? Then how about this for an option?
A brand new North Devon venue that has been used just once so far for a wedding (the owner's daughter!) Higher Hacknell farm is set in an incredible spot amongst rolling hills; the perfect option for couples who feel that food is as integral to their day as the outfits! 
An organic farm for over 30 years, the owners produce some of the finest beef, pork and lamb in the county.  Their meat features heavily in Seadog wedding and private catering menus.  As well as their own meat, traditionally cut and cured in their onsite butchery, the team at Higher Hacknell also grow all manner of organic vegetables on the farm. We're talking food metres not food miles here….
Imagine a rustic beautiful barn conversion, canapes amongst the apple trees in the orchard, and a wedding feast of truly local produce in a tranquil rural setting like no other.  Slip on those sparkly wellies and get on down to the farm!
Want to discuss your plans for the perfect North Devon wedding?